Biography KH. Maimoen Zubair
by Fachrul
415.931 Views
Senin, 5 September 2022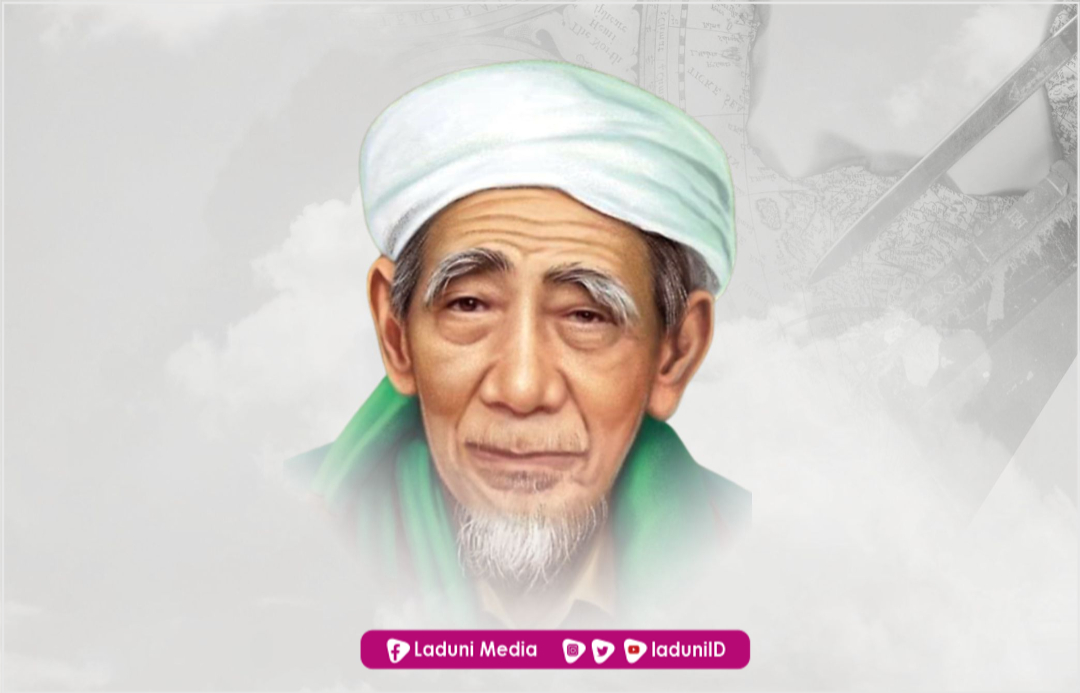 List of content of KH. Maimoen Zubair
Birth
KH. Maimoen Zubair or who is ussualy called Mbah Moen is the first son of Kiai Zubair dahlan and Nyai Mahmudah couple. He was born in Karang Mangu Sarang on Thursday mont of Sha'ban 1347 H or 1348 H or October, 28 1928.
From the line of grandfather's lineage, mbah Moen lineage reacher Sunan Giri. The following is the line of the lineage of mbah Moen, KH. Zubair bin mbah Dahlan bin mbah Carik Waridjo bin mbah Munandar bin Puteh Podang (Lajo Singgahan Tuban village) bin Imam Qomaruddin (from Brongsong Baureno Bojonegoro) bin Muhammad (Gresik White Tiger) bin Ali bin Husen (Mentaras Dukun Gresik village) bin Abdulloh (village Karang Jara Gresik) son of prince Pakabunan bin Panembahan Kulon bin Sunan Giri. Meanwhile, from the grandmother's lineage namely, Nyai Hasanah bin kyai Syu'aib bin mbah Ghozali bin Mbah Maulana (Mbah Lanah, a Madurese aristocrat who joined Prince Diponegoro's army). Mbah Moen's father, Kiai Zubair, was the chosen student of Shaykh Sa'id Al- Yamani and Syaykh Hasan Al-Yamani Al-Makky. The two teachers are well-known scholars in Yemen.
From his father, he implemented assertiveness and determination, while from his grandfather, he emulated compassion and generosity. Affection sometimes sheds assertiveness, humility is often the opposite of assertiveness. However, in the person of mbah Moen, all of that is synergized in a balanced way. The sharpness of coastal life did not make his attitude harden too.
He is the perfect image of a well-mannered and mature personality. All of that is not a coincidence, because from he was young, he lived in the pesantren tradition was directly cared for by his own father and grandfather.
Family
Mbah Moen finished his single life by marriying a daughter of Mbah Sambu Lasem's descent, Nyai Hj. Mati'ah. From his marriage, Mbah Moen was blessed with ten children, eight boys and two girls. The names of his sons and daughters are:
Gus Abd. Rouf
Gus Yasin
Gus Idror
Sobihah (Mustofa Aqil)
Rodhiyah (Gus Anam)
Passed away
KH. Maimoen Zubair passed away in Mecca, Saudi Arabia, on Tuesday, August 6, 2019 in the morning, to celebrate the Haj pilgrimage. He died at the age of 90 years.
Education
In his educational history, since childhood Mbah Moen has been directly guided by his parents with strong religious knowledge, starting from memorizing and understanding the knowledge of Shorof, Nahwu, Fiqih, Manthiq, Balaghah and various other Syara' Sciences.
At the young age, he had memorized several books by heart including Al-Jurumiyyah, Imrithi, Alfiyyah Ibnu Malik, Matan Jauharotut Tauhid, Sullamul Munauroq and Rohabiyyah fil Faroidl. Beside, he was also able to memorize the books of fight madzhab Asy-Syafi'I, such as Fathul Qorib, Fathul Mu'in, Fathul Wahhab and so on.
In 1945 he started his education at Pondok Lirboyo Kediri, under the guidance of KH. Abdul Karim or who is usually called Mbah Manaf. Apart from Mbah Manaf, he also received religious knowledge from KH. Mahrus Ali is also KH. Marzuqi. After that was done, then he returned to his village, practicing the knowledge he had got. Then in 1950, he went to Mecca with his own grandfather, namely KH. Ahmad bin Syu'aib to study with scholars in Mecca. Among them are Sayyid Alawi al-Maliki, Sheikh Al-Imam Hasan al-Masysyath, Sayyid Amin al-Qutbi, Sheikh Yasin Isa al-Fadani, Sheikh Abdul Qodir al- Mandaly. There he studied for 2 years.
In 1952, Mbah Moen returned to Indonesia. Arriving in Indonesia, Mbah Moen then continued studying with several Islamic scholars in Java. His teachers are Kiai Baidhowi, kiai Ma'shum Lasem, Kiai Bisri Musthofa (Rembang), Kiai Wahab Chasbullah, Kiai Muslih Mranggen (Demak), Kiai Abdullah Abbas Buntet (Cirebon), Syekh Abul Fadhol Senori (Tuban), and several other Islamic teacher.
Established Pesantren Al-Anwar
After he felt that he was sufficient to obstain knowledge, finally Mbah Moen returned to Sarang and served the community there. In 1965, Mbah Moen established Pesantren Al-Anwar. This Pesantren then became a reference for parents, to board their children to study the yellow book and turats. Finnaly, the people of Sarang got to know KH. Maimoen Zubair as a charismatic Islamic scholar figure.
Careers in politics and at Nahdlatul Ulama (NU)
Beside being a caretaker for Pesantren Al Anwar Sarang in 1971. Mbah Moen went into politics as a member of the board of People representative for the Rembang region until 1978. Then in 1987, he became a member of People's Consultative Assembly from Central Java until 1999. Then during his political position in the Indonesia People's Consultative Assembly, Mbah Moen was also known to be active in Nahdlatul Ulama from 1985 to 1990, Mbah Moen had served as Chairman of the Syuriah Nahdlatul Ulama of Central Java Province. He was also the chairman of Jam'iyah Thariqah Nahdlatul Ulama.
From 1995 to 1999, Mbah Moen was also active in party such as being the chairperson of the MPP for Partai Persatuan Pembangunan (PPP) party, and later as chair of the PPP Syariah Council since 2004.
Pupils
1. Kiai Abdul Wahid Zuhdi (he has wider sight or mutabahhir)
2. Gus Anam (as known as rojul kamil because of his memorizing)
3. Gus Baha' (Islamic student who fast to memorizing, he is like a book)
Works
Nushushul Akhyar is a book written by Mbah Moen which explains the determination of the start of fasting, Eid al- Fitr and discussions regarding the place of Sa'i.
Tarajim Masyayikh Al-Ma'ahid Ad-Diniah bi Sarang Al-Qudama is a book wrriten by Mbah Moen which contains complete biographies of Sarang's Islamic teacher.
Al-Ulama'Al-Mujaddidun, this book was often reviewed by Gus Baha
Maslakuk Tanasuk This book describes Mbah Moen's sanad thoriqot to Sayyid Muhammad Al Maliki and contains other discussions.
Kifayatul Ashhab
Taqirat Badi Amali
Taqrirat Mandzumah Jauharut Tauhid
Sanad Lineage Chart
The following is a genealogy chart for KH's teachers. Maimoen Zubair can be seen HERE, and the genealogy chart of his student's lineage can be seen HERE.
---
This article was previously edited on Juni 18, 2021, and last edited on September 5, 2022.
---