Biography of Sheikh Ahmad Khatib Sambas
by Budi
1.576 Views
Kamis, 15 September 2022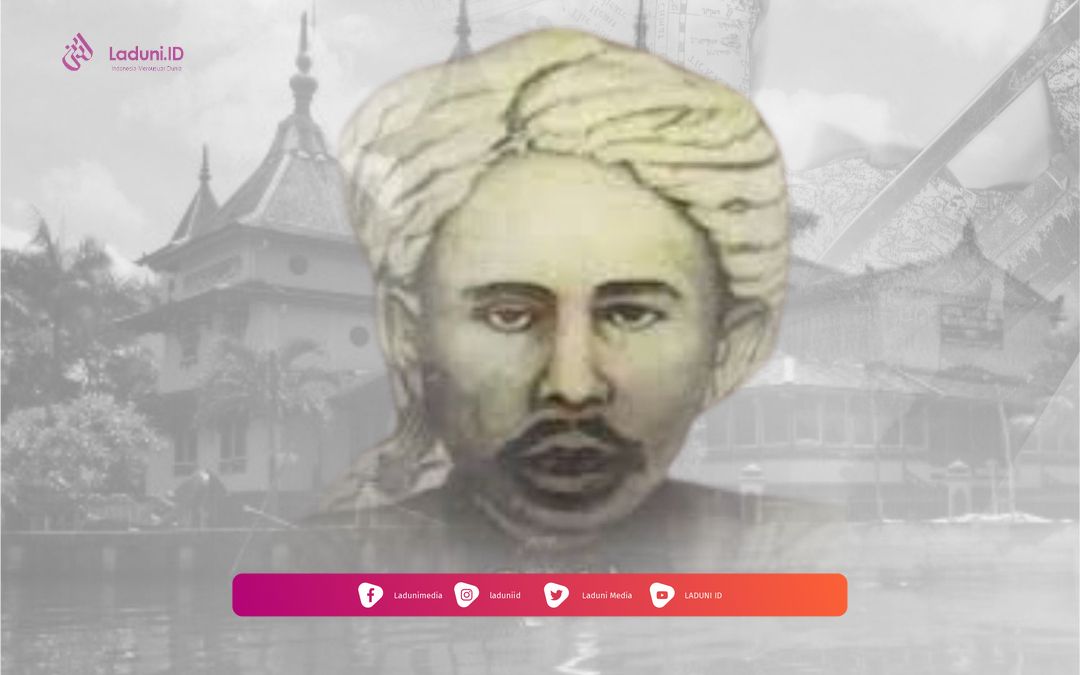 List of Contents
1 Life story and Family
1.1 Born
1.2 Family History
1.3 Passed away
2 Sanad of Knowledge and Education
2.1 Wandering for Knowledge
2.2 His Masters

3 His Successors
3.1 His Children
3.2 His Students
4 His Career and Works
4.1 His Career
4.2 His Works
5 Founders of Tariqah Qadiriyah Naqshbandiyah
6. Reference
1. Life story and Family
1.1 Born
Sheikh Ahmad Khatib Sambas was born in the month of Shafar 1217 or 1803 AD, in the Dagang Village area, Sambas, West Kalimantan Province. He is the son of Abdul Ghaffar bin Abdullah bin Muhammad bin Jalaluddin.
The name Sambas is a ratio or taken from the name of a place/city located on the north coast, West Kalimantan. So that his name which was originally Ahmad Khatib was later added to Ahmad Khatib Sambas.
1.2 Family History

In 1820 AD, Sheikh Ahmad Khatib Sambas went to the holy land to continue his education by studying with the scholars in Mecca. From here he married an Arab woman of Malay descent and settled in Mecca. The fruit of his marriage, he was blessed with 3 children, including:
1. Syekh Yahya
2. Siti Khadijah
3. Syekh Abdul Gaffar
1.3 Passed away

Sheikh Ahmad Khatib Sambas passed away in Mecca in 1289 H coincided in 1875 AD at the age of 72 years. Regarding his death, there are some differences regarding the year of his death, because some say 1872 AD and some say 1875 AD, but the article here takes the source from the book "Development of Sufism and its figures in the archipelago".
2. Sanad of Knowledge and Education
2.1 Wandering for Knowledge
Since childhood, Sheikh Ahmad Khatib Sambas was raised by his uncle who was known to be very pious and sane. He spent his youth studying religious sciences, he studied from one teacher to another in the Sambas kingdom area. One of his teachers who was famous in the area was, H. Nuruddin Mustafa, Imam of the Jami' Mosque of the Sultanate of Sambas.
Sheikh Ahmad Khatib Sambas in his teens went to Mecca with his uncle to study religion there. Long story short, because of his intelligence the study of science that should have been taken in 30 years, but by Sheikh Ahmad Khatib Sambas in 3 years has been completed.
Seeing this fact, the teacher, Sheikh Syamsuddin, before he passed away, appointed him as "Shaykh Mursyid Kamil Mukammil within the Tariqat Qadiriyah Wan Naqsabandiyah", which is a combination of the two tariqats, namely Qadiriyah and Naqsabandiyah.
2.2 His Masters
His teachers while studying for knowledge were:
1. H. Nuruddin Mustafa, Imam of Jami Mosque 'Sambas Sultanate
2. Sheikh Muhammad Arsyad Al Banjari
3. Sheikh Daud Bin Abdullah Al Fatani (scholar from Patani Southern Thailand who lives in Mecca)
4. Sheikh Abdusshomad Al Palimbani (cleric from Palembang who lives in Mecca)
5. Sheikh Abdul Hafidzz al-Ajami
6. Sheikh Ahmad al-Marzuqi
7. Sheikh Syamsudin, a murshid of the Qadiriyah tarekat who lives and teaches in Jabal Qubays Mecca.
3. His Successors
3.1 His Children
1. Sheikh Yahya
2. Siti Khadijah
3. Sheikh Abdul Gaffar
3.2 His Students
Indonesian scholars who have been his students include:
Sheikh Ahmad Khatib Sambas was a very influential scholar, and also gave birth to many prominent scholars in the field of fiqh and interpretation, including Sheikh Nawawi al-Bantani who was one of his students who managed to become a famous scholar.
In addition, there is also Sheikh Abdul Karim Banten who is famous as Sulthanus Sheikh. This cleric was famous for being strict in Dutch imperialism in 1888 and waging a rebellion known as the Banten Peasants' rebellion. But unfortunately, this physical struggle failed, then left Banten for Mecca to replace Sheikh Ahmad Khatib Sambas.
Sheikh Ahmad Khatib Sambas in teaching Islamic students collaborated with other great Sheikhs who were not followers of the tariqat such as Sheikh Tolhah from Cirebon, and Sheikh Ahmad Hasbullah bin Muhammad from Madura, both of whom had lived in Mecca.
One of his students who was also famous and gave birth to great figures was KH. Kholil Bangkalan, Madura. After the death of Sheikh Ahmad Khatib Sambas, Imam Sheikh Nawawi al-Bantani was appointed to continue teaching at his Madrasa in Mecca. While Sheikh KH. Kholil Bangkalan, Sheikh Abdul Karim and Sheikh Tolhah were ordered to return to Java and appointed as Caliphs who had the right to propagate and pledge allegiance to students in the Qadiriyah wa Naqsyabandiyah order.
Among his other students are:
1. Sheikh Nuruddin, he is from the Philippines, his tomb is located in Tekarang Village, Tebas District
2. Sheikh Muhammad Saad, he is a native Sambas, his tomb is located in Selakau District, Sambas Regency
3. Sheikh Abdullah Mubarak bin Nur Muhammad, from Tasikmalaya who founded the Pesanteran Tasikmalaya Suryalaya, he is the father of Sheikh Ahmad Shohibulwafa Tajul Arifin (Abah Anom)
4. Sheikh Abdul Latif bin Abdul Qadir Sarawak, and others
4. His Career and Works
4.1 His Career
He is a teacher at the Mecca Islamic school
4.2 His Works
Although Sheikh Ahmad Khatib Sambas is famous as a Sufi figure, he also produced works in the field of jurisprudence in the form of Friday treatise manuscripts. This handwritten manuscript was found in 1986, a former collection of Haji Manshur from Subi Island, Riau Archipelago. According to Wan Mohd. Shaghir Abdullah, a writer scholar from Malay land. The content of this manuscript, discussing issues surrounding Friday, also discusses the Islamic law of slaughter.
At the end of the manuscript, there is also a long advice, this manuscript is closed with some of his wirid practices in addition to the practice of Tariqat Qadiriyah-Naqsyabandiyah.
Another work (also in the form of a manuscript) discussing fiqh, starting with thaharah, prayer and funeral arrangements was found in Mendalok Village, Sungai Kunyit, Pontianak Regency, West Kalimantan, on 6 Shawwal 1422 H/20 December 2001 AD. This work is in the form of an undated manuscript, there is only the year of copying stated which states it was copied on Thursday, 11 Muharram 1281 H by Haji Ahmad bin Penggawa Nasir.
As for the period of his life, there are at least two books written in Arabic by Arabs, telling the story of the Meccan scholars, including the name of Sheikh Ahmad Khatib Sambas. The first book, Siyar wa Tarajim, was written by Umar Abdul Jabbar. The second book, Al-Mukhtashar min Kitab Nasyrin Naur waz Zahar, by Abdullah Mirdad Abul Khair summarized by Muhammad Sa'id al-'Amudi and Ahmad Ali.
Ajarah Syekh Ahmad Khatib Sambas to this day can be recognized from his work in the form of the book Fathul Arifin which is the minutes of his lectures written by one of his students, Muhammad Ismail bin Abdurrahim. This note was recorded in Makkah on the year 1295 H. This book contains procedures, allegiance, talqin, dhikr, muqarobah and lineage of Tariqah Qadiriyyah wan Naqsyabandiyah.
This book is still used by the murshid and followers of Tariqah Qadiriyyah wan Naqsyabandiyah to carry out their special worship processions. Thus, of course, the name of Sheikh Ahmad Khatib Sambas is always remembered and said in every prayer and munajah of these Tariqah followers.
5 Founders of Tariqah Qadiriyah Naqshbandiyah
Sheikh Ahmad Khatib Sambas is a Sufi scholar who founded the Tariqah Qadiriyah Naqsyabandiyah association. This tariqah association is the unification and development of the methods of the two great Sufi tariqats, namely the Qadiriyah and the Naqsyabandiyah.
The teaching of Sheikh Ahmad Khatib Sambas is that the Tariqah Qadiriyah Naqsabandiyah has teachings that are believed to be true, especially in matters of Sufism. Some of the teachings which are the views of the followers of this tarekat are related to the problem of the tarekat or methods to get closer to Allah SWT. This method is believed to be the most effective and efficient. Because the teachings in this tarekat are all based on the Qur'an, al-Hadith, and the words of the wise scholars from the shalihin Salafus circle.
Tariqat Qadiriyyah and Naqshbandiyyah have an important role in the life of Indonesian Muslims. And what is very important is to help shape the character of the Indonesian people. Not because Sheikh Ahmad Khatib Sambas as the founder was a local (Indonesian) but the followers of these two Tariqats participated in the persistent struggle against Dutch imperialism and continued to struggle through socio-religious movements and educational institutions after independence.
Surveys on the history of Tariqat Qadiriyyah and Naqshbandiyyah have a close relationship with the development of Indonesian society. This Tariqat is one of the uniqueness of the Indonesian Muslim community, not for the reasons described above, but the practices of this Tariqat adorn the beliefs and culture of the Indonesian people.
The Qadiriyyah Naqsbandiyyah Order is substantially the actualization of all Islamic teachings (Islam Kaffah) in all aspects of life. The goal of Tariqat Qadiriyyah and Naqshbandiyyah is the goal of Islam itself. According to its main source, the Qur'an, Islam as a religion was revealed to lead mankind to the straight path, the path of salvation that leads to prosperity in this world and happiness in the hereafter (hasanah fi al-dunya and hasanah fil al-akhirat).
Tariqat Qadiriyyah and Naqshbandiyyah bring people to God, and horizontally provide signs and principles of how to live together in society. Tanbih contains moral teachings, concerning various lives. The view of the Qadiriyyah Naqsbandiyyah Order regarding the State, for example, can be seen in Tanbih's description as follows:
"We are also the place where people ask about Tariqah Qadiriyyah wa Naqsbandiyyah, deliver sincerely, wills to all students; Be careful in all things, do not do things that are against the rules of Religion and the State. Insapilah, O all students, do not be adrift by the enticement of lust, influenced by the temptations of Satan, beware of the way of deviation from the orders of Religion and the State, so that we can examine ourselves if attracted by the whispers of the Devil who always sneaks in our hearts ".
The philosophical views of Tariqat Qadiriyyah and Naqshbandiyyah regarding social relations, both with fellow Muslims and with non-Muslims, can be seen in the following section on Tanbih's description:
We must respect those who are higher than us, both physically and mentally, that is how we should live in harmony with mutual respect.
To others who are equal to us in everything, do not let disputes occur, on the contrary, we must be humble and work together in carrying out the orders of Religion and the State, lest there be disputes and disputes, in case we are exposed to His word "Adzabun Alim" which means sorrow. sorrow forever from this world to the hereafter.
Towards those who are below us, do not insult them or act indecently arrogant, instead must be compassionate with awareness, so that they feel happy and happy in their hearts must be guided and guided by gentle advice that will give conviction in treading the path virtue.
To the poor and needy, we must be compassionate, friendly and kind, be generous, reflect that we are aware. Try to feel ourselves personally, how painful it is to be in a state of deprivation.
This is the true attitude of humans who are full of awareness even towards strangers because they are still descendants of the Prophet Adam. Remembering verse 70 of the letter Isra which means:
"We greatly honor the descendants of the Prophet Adam and We spread everything that is on land and in the sea, also We prioritize them over other creatures."
The conclusion of this verse is that we should all respect each other, do not let disappointment arise, considering the letter Al-Maidah which means "You should help each other in carrying out virtue and sincere piety towards Religion and the State, on the contrary, do not help each other in sinning and being hostile towards each other. against the orders of Religion and the State".
The essence of tanbih above explains to us how the ideal model of interaction between us and people who are higher than us, with others, in the sense of being equal in everything, with people below us and with the poor. Tanbih explained that inner peace will be realized in the midst of society when each individual adheres to social ethics: "It is not from my group that people do not love those below them, and do not respect those above them".
More than that, Tanbih also contains teachings on how we should behave in social life with foreigners, both those who share our religion and those who do not.
6. Reference
https://www.bacaanmadani.com/2018/02/biografi-singkat-ahmad-khatib-al.html
7. Chart Geneology
The following is a genealogy chart for the teacher Sheikh Ahmad Khatib Sambas can be seen HERE, and a lineage chart for his students can be seen HERE.
---
This article was previously edited April 04, 2022, and last edited September 15, 2022.
---